Coach Gary Blair
---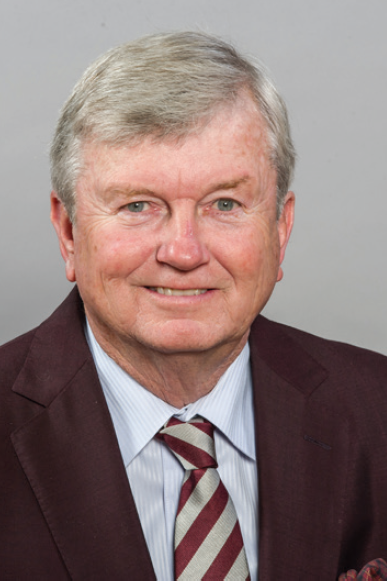 Women's Basketball Hall of Fame member, Gary Blair, led Texas A&M to the 2011 NCAA Championship and has transformed the women's basketball program into a national power since his appointment as head coach in 2003.

Blair, a two-time national finalist for the Naismith Coach of the Year Award, has guided Texas A&M to 10 straight NCAA Tournament appearances, and to four conference championships, including the 2013 SEC Tournament Championship.

Blair led the Aggies to their first national title in their first-ever trip to the NCAA Women's Final Four and closed out the 2010-11 season with a 33-5 record, the most victories in program history. The Aggies were voted as the No. 1 team in the coaches' poll following the season, the first time Texas A&M stood atop either poll in women's basketball.

With Blair at the helm, the Aggies have made five appearances in the Sweet Sixteen in the past eight years, and reached the Elite Eight in 2008, 2011 and 2014.

The women's basketball program won its first SEC Championship in 2013, knocking off three ranked teams to capture the league crown in a 75-67 victory over No. 7 Kentucky. The Aggies captured the regular season Big 12 Conference Championship in 2007 and continued with postseason championship titles in 2008 and 2010 before departing to the SEC.

Over the course of his 30-year collegiate coaching career, which includes stops at Stephen F. Austin from 1985-93 and Arkansas from 1993-03, Blair has led his teams to 29 winning seasons, 24 20-win seasons, 21 NCAA Tournament appearances and 33 NCAA postseason victories. Blair has won a championship at every level of his coaching career including three state championships at Dallas South Oak Cliff High School, two national championships as an assistant coach at Louisiana Tech, a WNIT Championship at Arkansas and a national championship at Texas A&M.
Coach Gary Blair began working with the Special Olympics in 1992 and has not stopped since. The joy Blair saw in the Special Olympians eyes through his engagement only intensified his desire to be involved. Since that time he has presented medals during award ceremonies, spoken at opening and closing ceremonies of the Spring and Winter Games, and contributed in other ways to help these Olympians in Texas. In addition to this Coach Blair often hosts the Special Olympians to the A&M Women's Basketball games and other related events. Coach Blair Charities has raised over 1 million dollars since its inception.